When Sujata was 21, her father married her off after her mother's unfortunate death. The eldest among three children, Sujata, before marriage, would attend to household chores while taking care of her ailing mother. Now, three years later, she works as a labourer at construction sites.
But Sujata is not the only one who has started working in recent years. As per 2022-23 annual report of the Periodic Labour Force Survey (PLFS) conducted by the National Sample Survey Organisation (NSSO), the female labour force participation rate (FLFPR) for Odisha now stands at a five-year high of 44.7 per cent. In other words, 45 out of 100 women, 15 years or above, are now either working or looking for employment.
In 2017-18, when the survey was first conducted, the FLFPR in the state was around 19 per cent (Chart 1), below the all-India rate of 23.3. But after three years of possible Covid-induced stagnation, it has now gone above the national rate of 37.
This increase in female labour force participation suggests that more women are now actively taking part in public life, a sign of development for the state. But there remain deep urban-rural divides.
A closer look at the data shows that labour force participation for women in rural areas remains higher than in urban areas, a pattern that could be attributed partly to the Mahatma Gandhi National Rural Employment Guarantee Act (MGNREGA), which mandates one-third of beneficiaries to be women. An article on MGNREGA participation in Odisha published in The Indian Journal of Labour Economics in 2018 found the scheme to be 'gender-sensitive,' with Panchayati Raj Institutions likely prioritising efforts towards households with more female members.
"There is no denying that MGNREGS must have been playing a role. In addition, there can be other reasons too. We may also attribute it to the increasing education level among females in rural areas coupled with a rise in opportunities in the rural non-farm sector," says Narayan Chandra Nayak, an author of the article and a professor at IIT, Kharagpur.
Seeking security in self
Another reason for a higher rural FLFPR could be the state government's promotion of self-help groups (SHGs) which enable women to start enterprises and market their products.
Data shows, among women participating in the labour force, a large number in Odisha are self-employed, either running their own businesses or helping in household enterprises. Between 2018-19 and 2022-23, the share of self-employed women has grown significantly both in urban and rural areas (Chart 2) as the share of salaried women has fallen along with that of casual labourers.
"Improvement in education among women helps them fetch formal employment as well as get self-employed," says Nayak emphasising the role of literacy.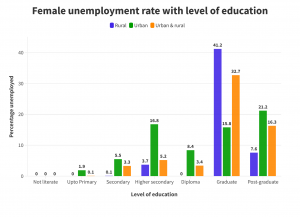 However, though the female unemployment rate in the state has gone down post-Covid (from 4.4 in 2021-22 to 2.4 in 2022-23) it remains higher (6.8) for urban women compared to rural (2).
Furthermore, the rate is highest for women with graduate level of education (32.7 per cent), followed by post-graduates (16.3 per cent), signalling a job market that doesn't have enough well-paying jobs for women with higher education degrees.
Meanwhile, Sujata, who completed only primary school, is determined to send her daughter to college. "I work to pay for her school. She is our hope for the future," she says.