A dedicated team of experts bring you live score, live cricket score, live match update on Sports.NDTV.com. After 2.1 overs, Punjab Kings are 18/0. The live updates of Punjab Kings vs Kolkata Knight Riders scorecard is also available. It is the perfect platform to follow your favourite teams in Indian Premier League 2021. Keep a track on your favourite batsmen and bowlers through Indian Premier League 2021 today match, ball by ball commentary, Punjab Kings vs Kolkata Knight Riders, Punjab Kings vs Kolkata Knight Riders live score, Punjab Kings vs Kolkata Knight Riders scorecard. Follow the excitement of the Indian Premier League 2021 on Sports.NDTV.com as you can follow live match updates and live cricket score through our platform.

1.6 overs (4 Runs)
FOUR! Just a little bit of room and Rahul bags his first blundary! Outside off, this is guided past point and it races away.

1.5 overs (0 Run)
Rahul looks to put the bowler off by moving around but this lands on a length on off, it is guided to point.

1.4 overs (0 Run)
On middle, this is worked to mid on.

1.3 overs (1 Run)
Good length and on off, this is guided down to third man for one more.

1.2 overs (0 Run)
Length now on middle, Agarwal guides it to point.

1.1 overs (6 Runs)
SIX! All the way! Fortunate biggie but Agarwal won't mind. Short and on middle, Agarwal looks to pull but it flies off the top edge and over the third man fence.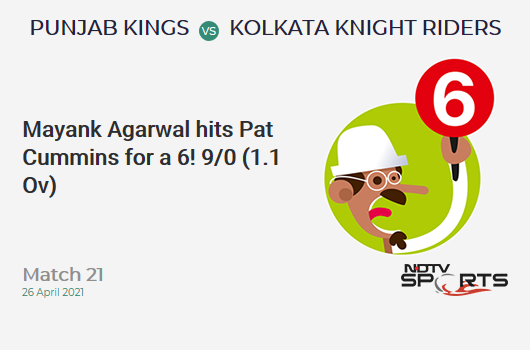 1.1 overs (1 Run)
WIDE! Starts off with one down the leg side, Agarwal looks to flick but misses.

0.6 over (0 Run)
That stays a little low! Length and on off, does not bounce a lot. Hits low on Rahul's bat as he tries to block. A good start by Mavi.


Who will bowl from the other end? Pat Cummins it is!

0.5 over (0 Run)
Fuller in length and on off, Rahul pushes it to mid off.

0.4 over (1 Run)
Agarwal is off the mark now! He plays this late and down to third man for one.

0.3 over (0 Run)
This is angled into middle, Agarwal plays it back to mid on.

0.2 over (1 Run)
Rahul and Punjab are underway! Angled into the pads, this is worked through square leg for one.

0.1 over (0 Run)
A full one to begin with, no swing, Rahul strokes it to covers.


We are all set for the action to begin! The Punjab openers, KL Rahul and Mayank Agarwal are out in the middle. Rahul will take strike and he will be facing Shivam Mavi who has the new ball in hand. Here we go…


Kolkata (Playing XI) – Nitish Rana, Shubman Gill, Rahul Tripathi, Sunil Narine, Eoin Morgan (C), Dinesh Karthik (WK), Andre Russell, Pat Cummins, Shivam Mavi, Prasidh Krishna, Varun Chakravarthy.


Punjab skipper, KL Rahul says that it is a new venue and new pitch and tells it will be interesting to see what kind of start they get. Rahul tells it is important the country fights back from what is happening. Adds they look to play cricket and entertain everyone. Rahul says the win in the last game has given them a lot of confidence and adds that the boys are positive as it was not an easy pitch to chase. Rahul says Gayle lightens the dressing room and told the boys to back up the good cricket they played in Chennai.


Eoin Morgan, Kolkata skipper, says it is the first they have won in few games and hopes it changes the luck. Informs they are going with the same eleven, they have played but have not done well with both, the bat and ball in the same game. Informs there is a lot of talent and depth in their squad and he hopes they can play well here. Adda if you go on a losing streak it can hurt badly but they do have the opportunity to change it now and he hopes they can do well.


TOSS – We are all in readiness for the toss. Punjab skipper, KL Rahul is out in the middle joined by Kolkata captain, Eoin Morgan. KL Rahul has the coin in hand. Up it goes. Morgan calls correctly. KOLKATA OPT TO BOWL!


PITCH REPORT – Simon Doull and Kevin Pietersen doing the pitch report. The latter says when you get out here and see a surface like this being a batter, you will be licking your lips. States the covering off grass is beautiful and there are going to be runs on offer so the bowlers will have to bowl well.


Hello and welcome to game number 21 of the league. It is a brand new venue as the league plays its first game in the biggest cricket stadium in the world. Kl Rahul's Punjab are high on confidence as they come to Ahmedabad with a convincing win over Mumbai. Punjab will look to carry that momentum and start their winning run. Kolkata, on the other hand, are on a freefall. Morgan's side have struggled so far this season and have lost all of their last 4 contests. The 2-time champions desperately need to end that barren run if they are to stay in contention this season. A new venue and a highly exciting contest awaits us. Can Morgan inspire his side or will Rahul's Punjab continue their march to the right direction? Stay tuned for toss and further updates.
Topics mentioned in this article